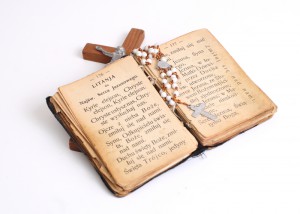 Personal study of the Bible is a very important part of our spiritual growth. We are blessed at St. Mark's to have a variety of vibrant Bible studies. Many of our Bible Study opportunities take the form of Small Christian Communities. We also have seasonal Bible Studies we will update on this page. We invite you to explore some different options to see which Bible study is best suited for you.

All Scripture is inspired by God and profitable, for reproof, for correction, for training in righteousness;
2 Timothy 3:16
Small Christian Communities are small groups of ordinary parishioners who meet regularly, usually in participants' homes. Their ultimate goal is threefold:
1) To connect their faith by listening to each other, sharing with and seeking to know each other.
2) To allow the Sunday liturgy to become a more intrinsic part of their daily lives, relating it to today's realities.
3) To open their hearts and minds to the Spirit through the scriptures in order to apply God's word in their daily lives.
Home bible studies
Wednesdays at 7pm Susan Ferraris ferraris5@hotmail.com, 760-727-0783
Women of Grace Bible Study
9:15 a.m. on Thursday mornings in Saint John Paul II Center multipurpose room
Facilitator: Michelle Regello (regello@cox.net), 760-591-9293
Deer Springs Bible Study
1 p.m. on Tuesdays at St. Mark's mission church (occasionally meets in private home)
Facilitator: Carol Dzindzio (cdzindzio@aol.com), 760-419-6307
Friday morning Bible Study
9am on Fridays in St. John Paul II Center multipurpose room
Facilitator: Edith Lawrence (510-1742)
Ongoing Bible Study Course at St. Mark's (Spanish)
7 p.m. on Wednesdays
Facilitator: Eliciel Maya (3m.fajardo@gmail.com, 917-4030)