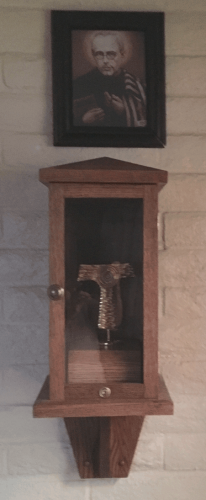 The relic of St. Maximillian Kolbe was enshrined on his feast day on August 14th.
Born: Feastday: August 14
Patron Saint:
of drug addicts, prisoners, families, and the pro-life movement
Birth: January 8, 1894
Death: August 14, 1941
Beatified By: By Pope Paul VI on October 17, 1971
Canonized By: By Pope John Paul II on October 10, 1982
St. Maximilian Kolbe was born as Raymund Kolbe on January 8, 1894, in the Kingdom of Poland, part of the Russian Empire. He was a Polish Conventual Franciscan friar and a martyr in the German death Camp of Auschwitz during World War II.
St. Maximilian Kolbe was very active in promoting the Immaculate Virgin Mary and is known as the Apostle of Consecration to Mary. Much of his life was strongly influenced by a vision he had of the Virgin Mary when he was 12.
"That night I asked the Mother of God what was to become of me. Then she came to me holding two crowns, one white, the other red. She asked me if I was willing to accept either of these crowns. The white one meant that I should persevere in purity, and the red that I should become a martyr. I said that I would accept them both."
One year after his vision, Kolbe and his elder brother, Francis joined the Conventual Franciscans. In 1910, Kolbe was given the religious name Maximilian, after being allowed to enter the novitiate, and in 1911, he professed his first vows.
At the age of 21, Kolbe earned a doctorate in philosophy from the Pontifical Gregorian University. He would also earn a doctorate in theology by the time he was 28.