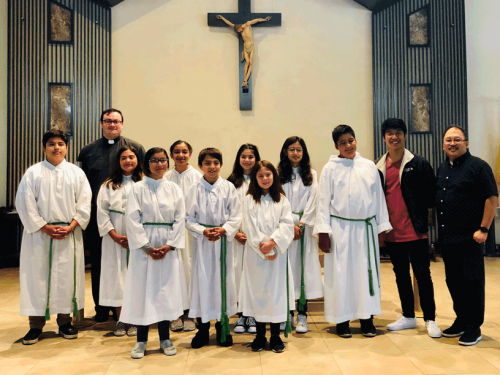 Our new altar servers; Icker Maillard, Christian Maillard, Chloe Stevenson, Milena Cruz, Sophie Cortes, Yasmin Belmonte, Alan Cardenas, Joanna De Jesus, and Isabela Gutierrez.
Assisting with the training: Noemie Campana and Aaron Bantay with the spiritual guidance of Fr Michael.
Thank you for the support of the parents, clergy and directors.
September 7th group of new altar servers:
They are Jasmine, Romario,Sagrario, and Rodrigo Garcez, Diego Angel Lopez, Isaac Hernandez, Yaretzi Aguilar, Montserrat Garcia, and Rebecca Diaz Chavez. Total of 9 kids. Not pickured; Cesar Guzman was no show and Rebecca Diaz Chavez.